According to an NPR story (Lady Gaga Writing A New Song Is Like A Factory Investing In A New Machine), the United States government is about to revamp the way gross domestic product (GDP) is calculated because economists are realizing that intangible investments contribute to the GDP and should be included in its overall calculation. In the Lady Gaga example, "the value of the time she spent working on new songs; working in the studio" is now worthy of being counted in the GDP. Investments in filming movies will also receive GDP status, as will investments in research and development.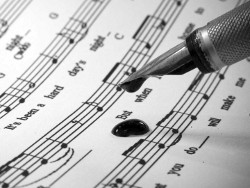 So let's get this straight: song-writing is a value-added activity and represents a contribution to the domestic product. While it may seem like a smoke-and-mirrors tactic to artificially inflate the GDP in order to make the economy look better (which could easily be the real motivation behind this change), the new calculation is a step in the right direction. It is an economic way to approximate heretofore unrecorded contributions to the public wealth. As such, it is a tiny bit closer to the implicit civilitic understanding that every value-added contribution is inherently beneficial to society and counts toward the wealth of a nation.
Since economics and civilitics are based in totally different principles, we must have a common measurement concept if we are going to compare them in a meaningful way. It would be just as inappropriate to discuss the overall ivi of an economic system as it would be to consider the GDP of a civilitic system. But let's assume for a moment that GDP is a measure of the benefit to society (by the expenditure of effort and money) over the period of a year. Technically, this is not the case, since automobile accidents and disasters contribute to the GDP. But if we consider just the positive aspects of GDP, then the GDP might actually be an economic allegory for ivi. A national ivi (should we call it a GDI – gross domestic ivi?) would be a time-average positive contribution by a nation's people, something vaguely similar to the GDP. Of course, ivi is a running average and is not bounded by any sort of annual calculation, but we could certainly measure it only once a year if we wanted.
An activity that is a freely-given contribution to the world and society is a civilitic activity. So song-writing – at least by reputable artists – is certainly an ivi-generating activity and the addition of song-writing to the GDP brings that calculation more parallel with an ivi calculation. The same is true for film-making or research and development. But what about other ivi activities that still will not be included in the GDP?
So far, the breadth of activities included by economists – even with the new rules – is grossly incomplete. For example, the GDP does not include domestic activity such as caring for children, cleaning house, or doing yardwork. These activities are also investments in the value of a nation and the well-being of its people. Child care only increases the GDP when it is being done for pay, usually by someone who is not the child's parent, but doesn't it still contribute to the wealth of a nation when it is being performed by the child's parent? Is house-cleaning only important when it is done by a maid service? Is mowing a yard only important when compensation is paid to a landscaping service?
Economists need to explain where and why they draw a line between investing in a new song and investing in other value-improving aspects of our society. Furthermore, since they have now decided to add some of these activities into the GDP calculation, how are we to measure them or assign a GDP value? How much is GDP is that new Lady Gaga song worth while it's being written and how does that compare with a song being written by my friend Peggy Lang?
In contrast, civilitics handles these questions intrinsically by allowing society to decide the value of all activities. If you mow a lawn, write a song, take care of children, or research a new technology, civilitics calls upon society to assign an ivi value. How much real value is added to society when a board chairperson spends the morning preparing for a shareholder meeting? How much value is added when a mother is available to help guide her child through a moral crisis? Ultimately, economics can only attempt to model calculations which are simple and natural for civilitics.